Primrose Hill School News
Hello 2017-18 School Year!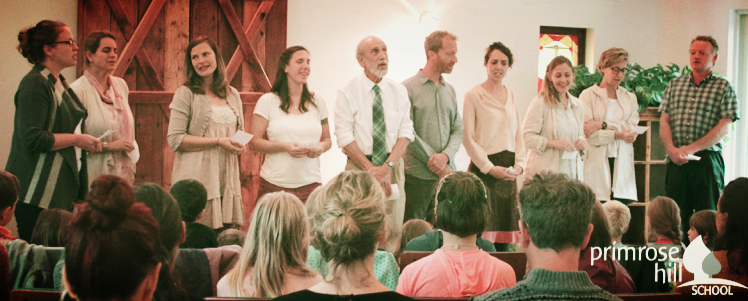 The Primrose Hill School faculty welcoming in the first graders with a song at the Rose Ceremony at the Rhinebeck Jewish Center on Wednesday, September 6, 2017.
Introducing Our New Teachers
Kirstin Young
First Grade Class Teacher

Kirstin has spent the past nine years serving in the Rudolf Steiner Fellowship community as well as teaching at the Otto Specht School.
Arn Krugman
Third Grade Class Teacher

Arn has served as a class teacher in several Waldorf schools for many years including taking a class from 1st to 8th grade at the Santa Cruz Waldorf School.
Laetitia Berrier Saarbach
Eurythmy

Laetitia was born in Mulhouse, France, and completed the four year Eurythmy and Pedagogical Eurythmy Training at Sunbridge College in Spring Valley, NY.
Coffee Hour and Campus Tour
Join us at 9am on the first Thursday of the month for coffee with our admissions coordinator Jordan Walker and current parents. At 9:30am we will take a guided tour of the property, visit the animals and answer any questions you might have about Waldorf education or Primrose Hill School.

RSVP to Jordan Walker or call (845) 876-1226
Open House
Saturday, October 14
11am to 1pm

Meet current parents and teachers, tour the classrooms and say hello to the animals who call our farm campus home. Children are welcome.